Meet our Conductive Education Team
At GSSC we value the huge benefits brought to our young people to enable them to access their personalised curriculum, supported through access to Conductive Education (CE) if deemed suitable.
Our Conductive Education Team is led by Zsuzsi Mate an experienced, qualified Conductive Education Teacher and her newly qualified Conductive Education Assistants: Stacey Johnson, Callum Clare and Amanda Snow.
Zsuzsi has worked with The National Institute of Conductive Education (NICE) and the University of Birmingham over the last 2 years to mentor and deliver accredited training to her CE Assistants, who all qualified in July 2019.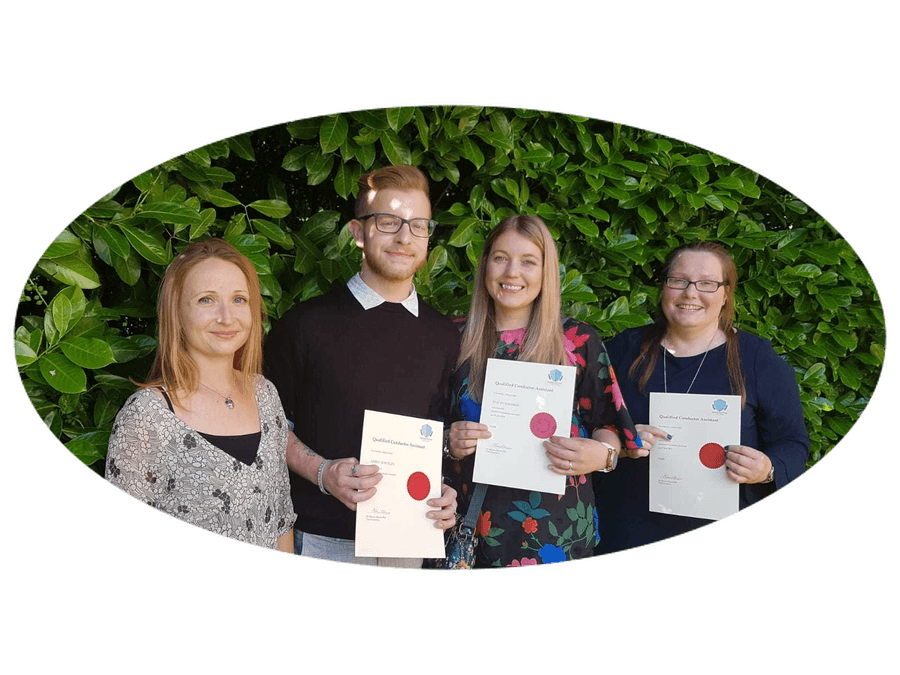 Conductive Education
Conductive Education (CE) is a unique teaching method that was developed in 1945 by a Hungarian doctor and educator named Andras Peto. Dr Andras Peto specifically designed this educational system for individuals with neuro-motor impairments such as cerebral palsy, spina bifida, multiple sclerosis and acquired brain injuries. He believed that motor control and coordination can be learned in order to improve the quality of life of people living with these challenges.
This comprehensive approach uses active learning to reduce the physical effects of a disability. Conductive Education combines physical activities with cognitive tasks, emphasises communication and takes place in a group setting to optimise active participation and social interaction. It focuses on the development of the person as a whole and utilises a complex program to teach skills related to gross and fine motor movements, social participation, communication and activities of daily living. The overall goals of Conductive Education include increasing the quality of an individual's motor function and providing participants with the confidence and problem-solving skills needed to live as independently as possible within the greater community.
"Ask me not what I can do for the children with cerebral palsy but ask me what they can learn to do for themselves" (Dr Andras Peto)
More information about Conductive Education:
www.conductive-education.org.uk